Special Offers
As you may know, all gas appliance manufactures recommend their appliances are serviced annually. This years summer service Offer is being held at the rate of £70*. Most manufactures standard charge is in excess of £100, plus parts and VAT.
The main aim of annual servicing is to ensure the safe running of your appliance as maintaining peak efficiency.
An experienced, professionally qualified service engineer equipped with the latest technology will service your boiler on a week day basis between 8.30am and 4.30pm.
Services will be carried out on mutually convenient date between April 1st and August 31st 2011.
Servicing outside of these dates can be considered subject to work load.
Should you wish to take up this offer, please leave your contact details on the combi gas answer phone between 8.15am and 6.00pm, and we'll get back to you to arrange an appointment.
*Summer Service Offer excludes parts
Call 07964 097821 or email: info@combigas.co.uk
When was your boiler last serviced?
Call Combi Gas on 07964 097821 or email us at info@combigas.co.uk to arrange an appointment.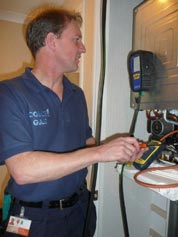 See what people say about Combi Gas
Click Here